For those that tried our homemade maple fudge during the
Maple Producers Association of Nova Scotia
tour, here's the recipe. Not sure where we found it but we made a few modifications to get it to where we like it. Give it a try and see what you think.
Takes approx. 45 min to make and yes you need a candy thermometer.
Ingredients:
2 cups of sugar
½ cup of MacRae's Rocky Ridge Maple Syrup
1 cup milk
2 tbsp light corn syrup
¼ tsp salt
2 tbsp of softened butter
1 tsp vanilla extract
½ cup toasted pecans, chopped (optional)
Directions:
Line an 8×8 pan with parchment paper
Combine sugar, maple syrup, milk, corn syrup and salt in a large saucepan over medium heat. Stir constantly until the sugar dissolves.
Insert candy thermometer, cook without stirring until the thermometer reads 240oF (115.6oC).
Remove from heat and add butter immediately stirring until the butter melts and the candy is smooth and well combined.
Let the fudge sit until it's barely lukewarm, approx. 110oF (43.3oC). To speed this process up you can place the pot in the fridge and check frequently (approx. every 10 min) until it's cool.
Add vanilla and beat the fudge vigorously until it is thick almost stiff and is no longer glossy (you can either use a wooden spoon or mixer with the paddle attachment to do this).
Stir in nuts (optional)
Pour the fudge into the prepared pan and smooth it out evenly. Let set at room temperature.
Once set cut into 1 inch squares and store in a covered container in the fridge.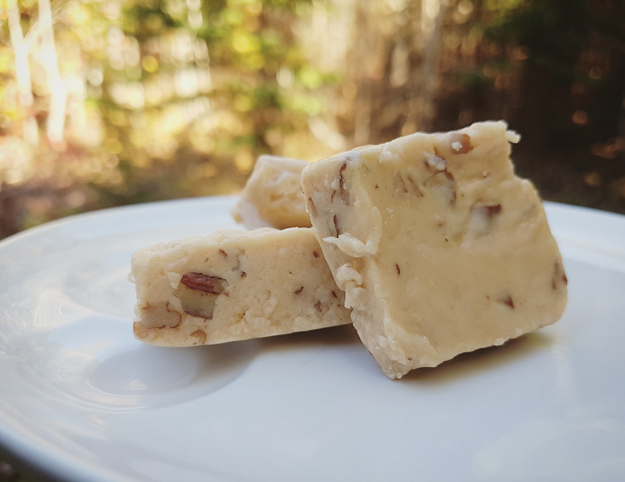 Maple Fudge